What type of equity information are you looking for?
Welcome to Equity & Inclusion
---
This page contains information regarding Equity and Inclusion efforts at UC Santa Barbara, including resources for Queer/Trans individuals, bias incidents, and the universities GROW initiative to support inclusion.
Further information on Equity and Inclusion can be found on the departments button on this page, including cultural groups on campus, and other specific equity efforts supported by the university.
Queer Trans Health Resources
---
Queer Trans Health Brochure
UC Santa Barbara is committed to assure that marginalized students, especially queer and trans students, receive accessible and equitable healthcare. If you have questions about health discrimination, transitioning, LGBTQ+ health, insurance, etc. check out this Queer Trans Health Brochure to get you started.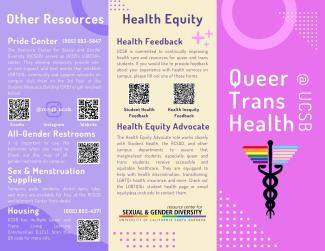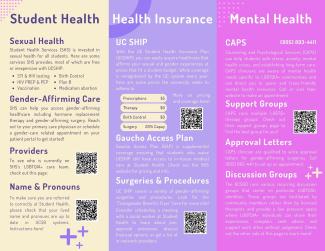 Trans @ UCSB Guide
Trans @UCSB is a navigational guide for trans and gender diverse students. This collection of resources, recommendations, referrals, advice, and step-by-step instructions is intended to help students navigate gender exploration and transition on our campus.
UCSB staff are here to provide support and guidance throughout your journey. If you have any edits, suggestions, resources requests, or unanswered questions, please reach out to equity@sa.ucsb.edu
The mission of UCSB is to foster an environment that promotes safety, inclusivity, and is free from discrimination. Despite the efforts of our campus and community, it is an unfortunate fact that some individuals still become targets of hateful acts due to their identity. In order to actively address, combat, and dismantle the unfortunate bigotry and oppression that still occurs in our community, we encourage folks to submit a report in the event that these incidents occur. You have the right to report and remain anonymous, and you may submit this on behalf of yourself or the impacted party. Reporting a possible hate crime or bias incident allows us to continue to protect our community and ensure they feel welcome and respected. The Bias Incident Response Team's priority is the safety and wellbeing of the impacted party, and incidents of bias are treated seriously and sensitively. If you have any questions, concerns, or wish to discuss additional information, please contact us at StudentLife@sa.ucsb.edu.
Diversity, Equity, & Inclusion
---
At UC Santa Barbara we value an inclusive and affirming environment for all students, staff, and faculty. Learning about other communities and identities and how to be a supportive advocate and ally is a lifelong project. Many of us receive little exposure to identities different from our own in our earlier lives, and thus universities can be the first time we encounter people different from ourselves. 
We can choose to let these differences divide us, or we can engage in intentional self-development to better understand and appreciate the many aspects of identities, cultures, and backgrounds. The resources on this site are intended to serve as a place to engage with these topics. We called this site "Grow" because we are never finished learning about others and how best to respect and support them. Multiple campus partners contributed to the development of the resources found on this site, guided by four principles:
Grow should be a living resource, in that we encourage users to ask for topics they would like to see represented, and resources they would like to see on the site. We are open to suggestions on valuable resources not yet represented, and ask that you email equity@sa.ucsb.edu with these suggestions. 
Grow should include content on each topic at varying levels of complexity/depth to allow users to engage with the topic at their level of knowledge/previous engagement.
Grow's resources should include first-hand storytelling whenever possible, as first-hand narratives are shown to be effective in reducing bias and increasing inclusivity.
Grow's resources should, whenever possible, be authored/created by people who hold the identities/topics being discussed. This prioritizes the knowledge and lived experiences of those communities.
Image