What type of information are you looking for?
Welcome to Medical Health
---
This page of the wellbeing website is meant to connect you with all services relating to your biological wellness. The services are resources on this page are not exhaustive, and many services that relate to biological wellbeing can also be found on other sections of this site.
Here you can information on medical services, menstrual equity, contraception, public health updates, and more!
Medical Appointments at Student Health Service
---
Student Health Service (SHS) provides a full spectrum of primary care services including:
Acute/urgent medical needs: strep throat, flu, accidents/injuries, intestinal/stomach problems, STI screening and treatment, pregnancy testing, emergency contraception, abdominal pain, headache, UTI, etc. 
Management of Chronic conditions
Mental health diagnosis and medication management
Contraceptive counseling and prescribing including Long-Acting Reversible Contraception (LARC) such as IUDs and Implants
Vaccinations: both routine and travel
LGBTQ health including gender-affirming care
Accutane initiation and management
Eating Disorder Support
Nutrition Counseling
Sport Physicals (Club Only)
Campus Covid-19 Information
The UCSB campus covid-19 website contains important information regarding:
UCSB Covid Dashboard
UCSB maintains a dashboard presenting COVID-19 test and case counts and vaccination rates among UC Santa Barbara community members who reside in university housing or who work, study, or conduct research on campus:

Campus Distribution Centers
There are ongoing distribution centers on campus where masks (n95 and surgical) will be available to pick up while the building is open:
UCEN Campus Store
Library Front Desks (Both)
Student Resource Building
Recreation Center
A.S. Pardall Center

Major Lecture Halls
The following lecture halls with have a desk setup with free masks (surgical) you can use for lectures:
Campbell Hall
Embarcadero Hall
IV Theater

Org/Dept Mask Requests
If you are an Organization or Department on Campus who would like to distribute masks, please contact sa-maskrequest@ucsb.edu to coordinate.
Image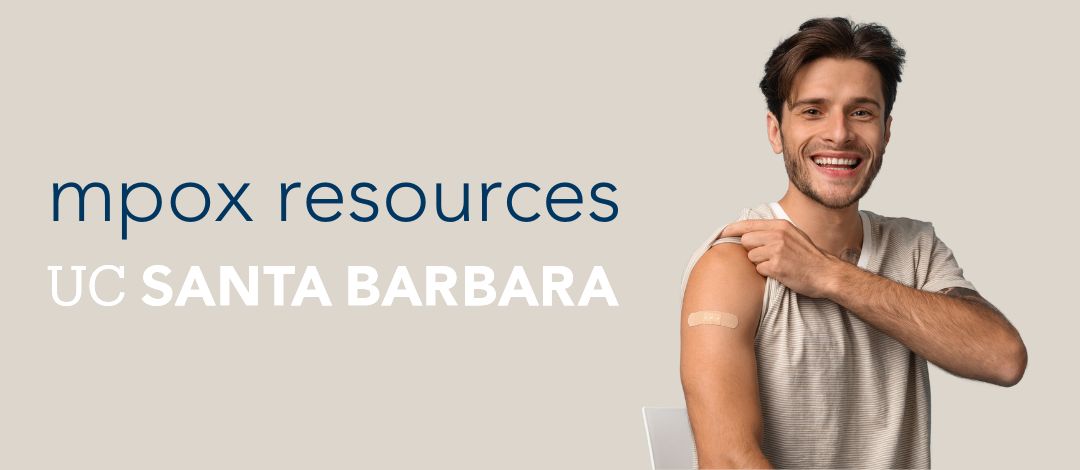 For the latest information on Mpox including prevention, vaccine information, symptoms, and transmission, visit our dedicated Mpox page: 
Sexual & Reproductive Health
---
Sexual & Reproductive Health at Student Health
Image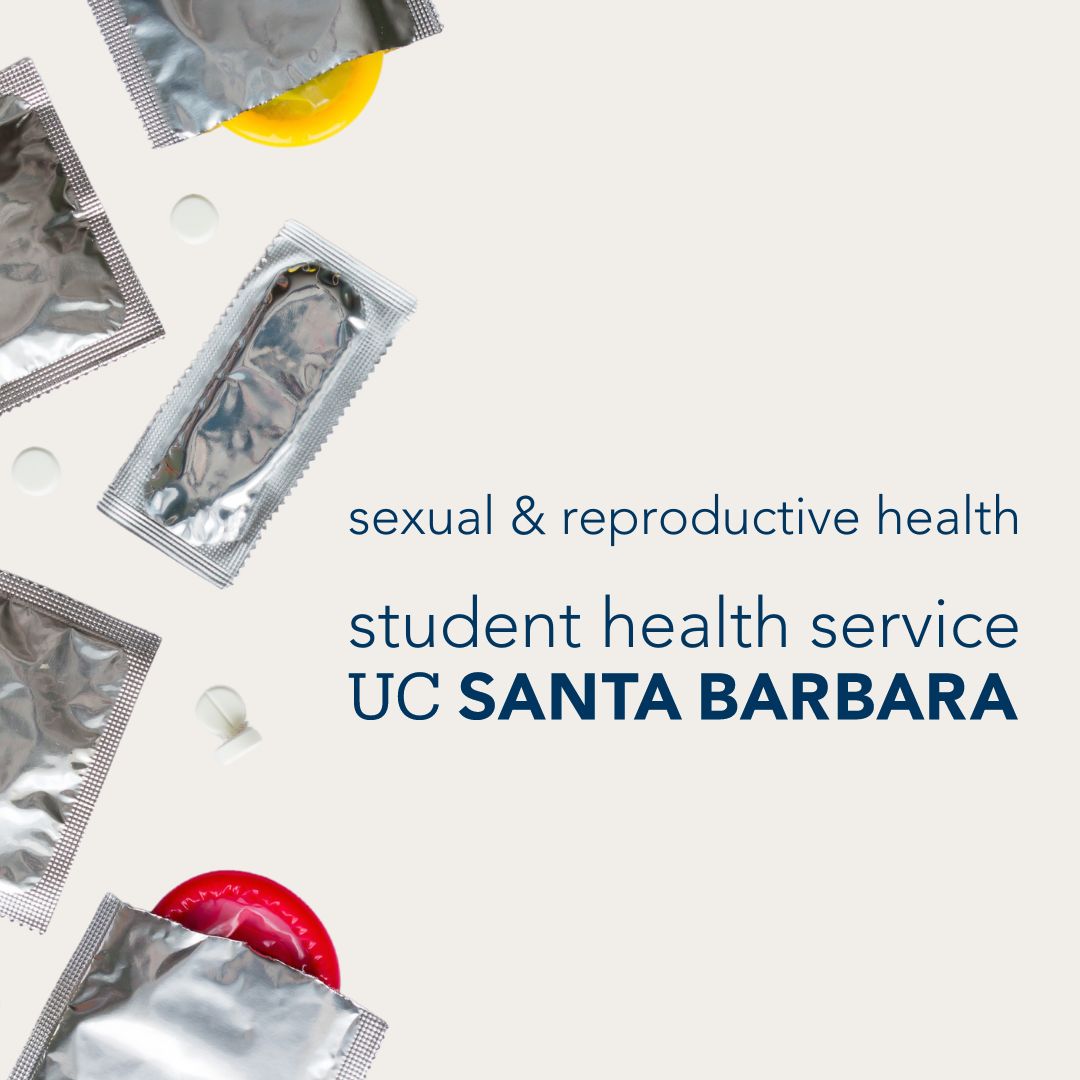 Taking care of your sexual and reproductive health is important at every age and for all genders. We offer a supportive, nonjudgmental environment where you can get your questions answered and receive the sexual and reproductive health care you need to stay well. Keep reading to learn more about our services.
Birth Control
Genital (vagina or penis) Concerns
Breast Care
Menstrual Issues
STI Testing and Treatment
PrEP for HIV
Cervical Cancer Screening and Colposcopy
HPV Vaccine and Counseling
Pregnancy Options and Medication Abortion
SHS Sexual & Reproductive Health Webpage
Human Papilloma Virus (HPV) is the most common sexually transmitted infection, but vaccinations are available. The vaccine provides protection for all sexes and genders against HPV-related cancers by up to 99%. The HPV Vaccine is widely accessible and available at Student Health Service. The vaccine is covered with no additional charge for those with UCSHIP insurance. Some private insurances will also cover the vaccine for people under 26. Vaccinations are also available at CVS for those with private insurance. The HPV vaccine is a 3-shot series over the span of 6 months. Student Health can finish the series or restart for those who started the series but didn't finish. The time is now to get the vaccine while it is covered by UCSHIP and available at UCSB.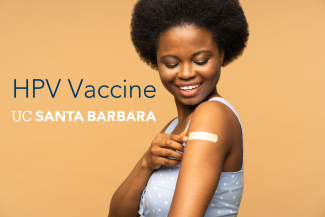 Trans @ UCSB Guide
Trans @UCSB is a navigational guide for trans and gender diverse students. This collection of resources, recommendations, referrals, advice, and step-by-step instructions is intended to help students navigate gender exploration and transition on our campus.
UCSB staff are here to provide support and guidance throughout your journey. If you have any edits, suggestions, resources requests, or unanswered questions, please reach out to equity@sa.ucsb.edu
Condom Distribution Program
The Condom Distribution Program at UCSB is a free service dedicated to encouraging safer sex for those that are sexually active by making condoms at UCSB accessible, attainable, and acceptable (sex-positive and normalized) according to CDC Guidelines. Condom Dispensers are located across campus and in the residence halls. These dispensers are filled with free lubricated and non-lubricated condoms. The program is a partnership between the Department of Health & Wellness, RHA, RCSGD, and The Women's Center. Please note that during the summer months, condoms will be available only at select locations. Please review our many condom distribution locations below to find a Condom Dispenser near you! If you're a department that is interested in distributing condoms as well, please contact joanna@ucsb.edu.
Locate Condom Distribution Locations
Free Menstrual Supplies
The UCSB Menstrual Health & Equity Coalition (COWSB, UCSB Library, UCSB Women's center, UCSB RHA, UCSB Basic Needs, UCSB Associated Students, and UCSB Health & Wellness) have teamed up to offer free menstrual products at the following locations:
Isla Vista
Wookstocks Pizza in Isla Vista (restrooms)
Rockfire in Isla Vista (restroom)
UCSB Residence Halls
Santa Cruz
Anacapa
Santa Rosa
San Miguel
San Nicolas
San Rafael
Manzanita Village
Santa Catalina
Student Resource Building (SRB)
Health & Wellness Center + Women's Center (shared space)
All Women's Restrooms
All Gender Neutral Restrooms
Basic Needs Health Snack Stations
ICA Study
MCC
RCSGD
TSC
El Centro
EOP
ONDAS
CAPS
SNAC
Student Health Service (SHS)
Student Mental health Coordination Services
UCSB Library
Female and Gender Neutral Restrooms:

1st Floor (1509, 1511, 1514, 1516)
2nd Floor (2505, 2507, 2522, 2526)
4th Floor (4549)
Sexual Health & Relationships Programs at the Department of Health & Wellness
Image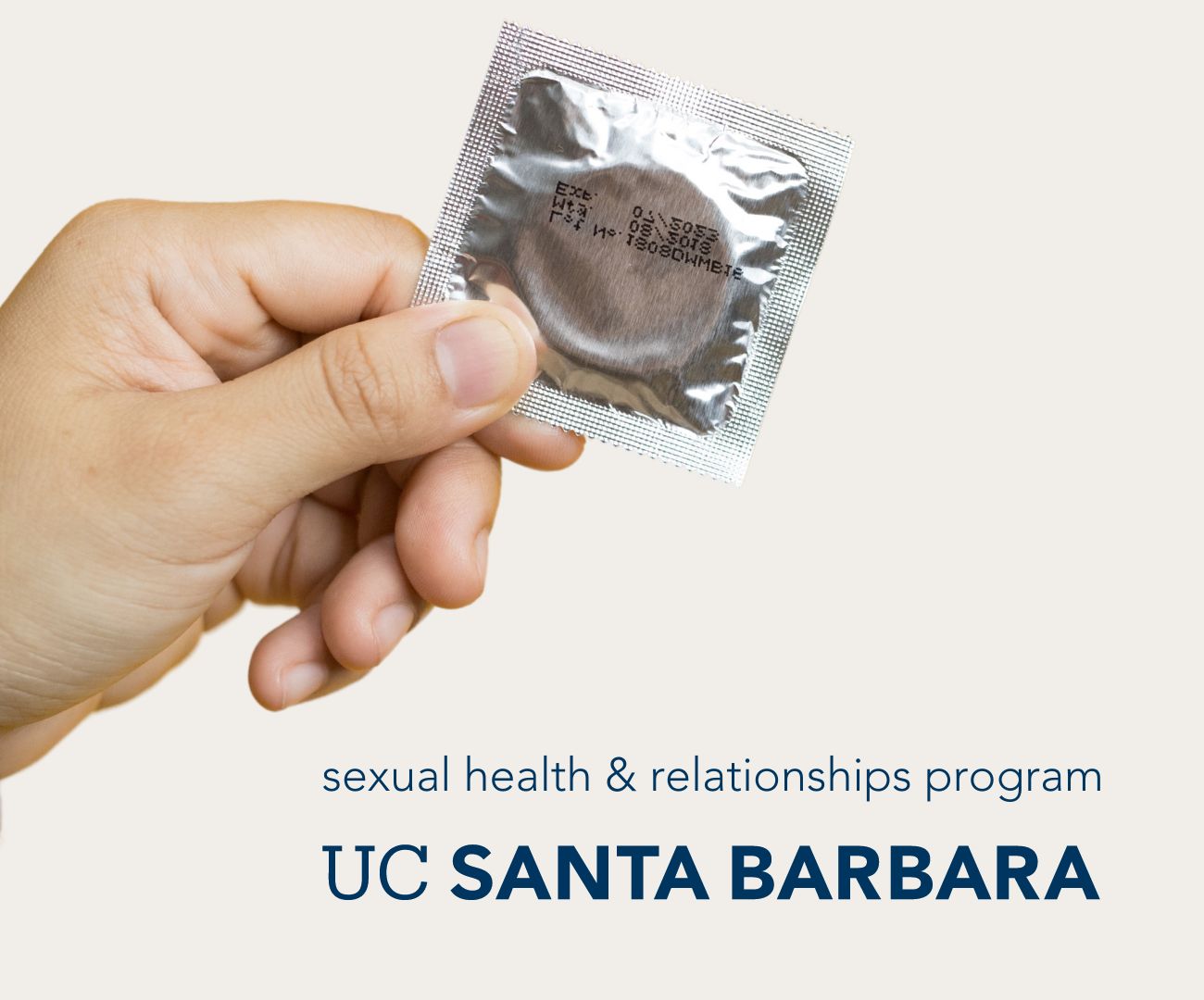 Learn about satisfying and consensual relationships, access to safer sex supplies, as well as many other resources around sex and sexuality. The best way to get started is to learn about your resources and find out how you can get more information, get tested regularly, get vaccinated, know how to access contraception or know where to get a prescription for birth control. 
Our sexual health education program is designed to provide accurate and comprehensive information about sexual health, safety, and self-agency to a diverse population of 26,000 students. In doing so, our students can make informed and thoughtful decisions about their physical, emotional, and social well-being according to their own values, whether their values lead them to choose abstinence or those who choose to be sexually active.