Which department are you looking for?
Welcome to the Medical Health Departments page
---
Welcome to the Medical Health Departments page. 
This page of the wellbeing website is intended to get you connected to departments on campus related to Medical Health. Student Health Service is a clinic on campus for students with UC SHIP insurance and offer many clinical services. They also have a full pharmacy, physical therapy department, insurance services, OBGYN, psychiatric services and more! While The Department of Health & Wellness does not offer any clinical services, they work closely with Student Health Service and offer health education workshops, programs, and resources that contribute to medical wellbeing, including free condoms, sexual health education, free face coverings, and more!
Likewise, there are many community clinics and organizations that offer medical health related services as well for those have their own insurance. We will be adding a section on community health resources soon. In the meantime, please check out the information below and feel free to browse their websites for more information, or tryout the chatbot to help narrow your search. Our chatbot is connected with Student Health's chatbot and will provide you with the same answers!
Student Health Service (SHS)
---
Student Health Service (SHS) provides a full spectrum of primary care services including:
Acute/urgent medical needs: strep throat, flu, accidents/injuries, intestinal/stomach problems, STI screening and treatment, pregnancy testing, emergency contraception, abdominal pain, headache, UTI, etc. 
Management of Chronic conditions
Mental health diagnosis and medication management
Contraceptive counseling and prescribing including Long-Acting Reversible Contraception (LARC) such as IUDs and Implants
Vaccinations: both routine and travel
LGBTQ health including gender-affirming care
Accutane initiation and management
Eating Disorder support
Sport Physicals (Club Only)
Sexual & Reproductive Health at SHS
Birth Control
Genital (vagina or penis) Concerns
Breast Care
Menstrual Issues
STI Testing and Treatment
PrEP for HIV
Cervical Cancer Screening and Colposcopy
HPV Vaccine and Counseling
Pregnancy Options and Medication Abortion
The Student Health Pharmacy is available to all registered students.
We specialize in college health and carry prescription medications as well as over-the-counter products. 
Our pharmacy prices are set to recover costs, and are most often considerably less than those in the local community.
Image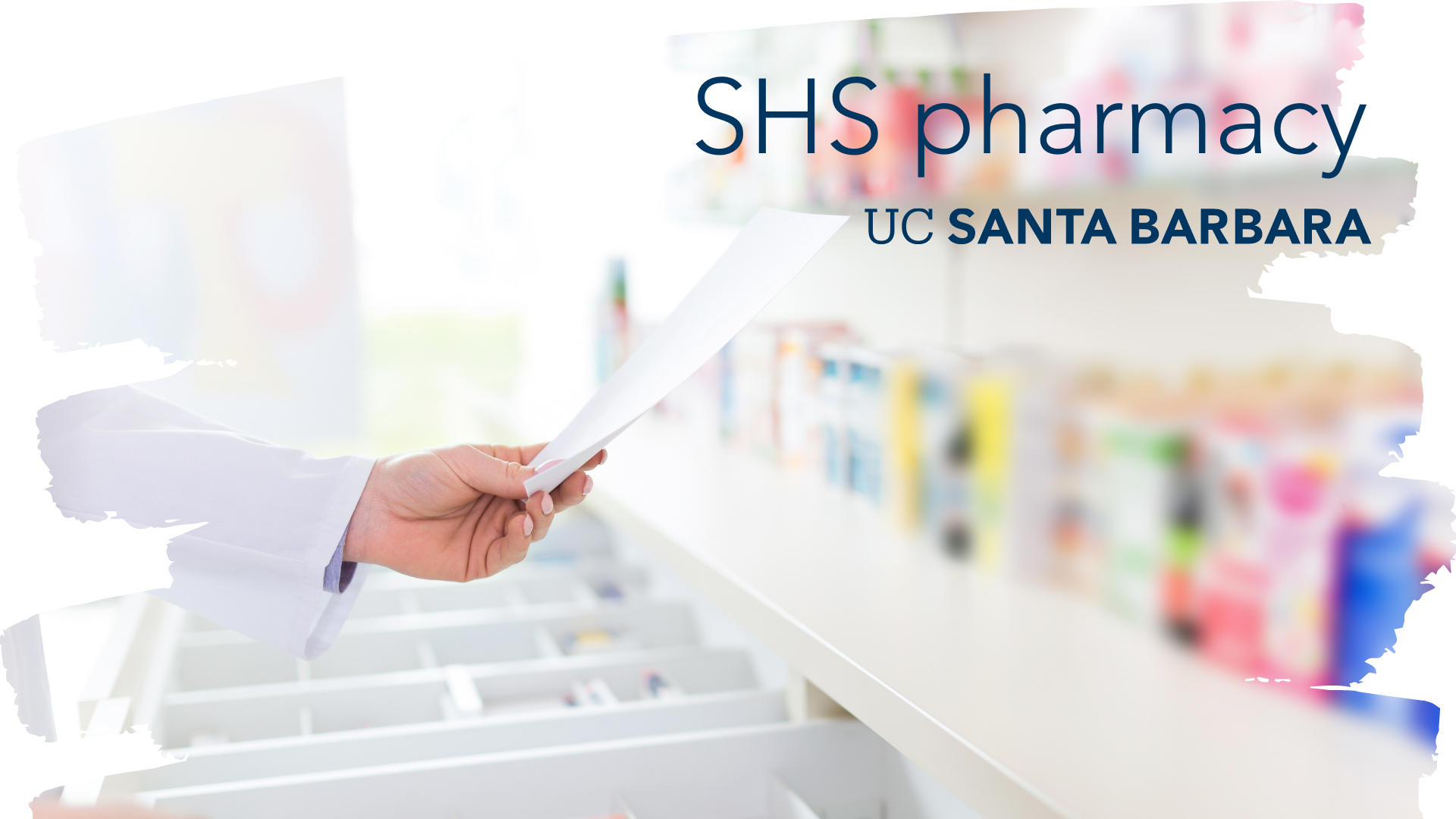 Department of Health & Wellness
---
While The Department of Health & Wellness does not offer any clinical services, we do offer many programs, resources, communications, and educational workshops that contribute to medical wellbeing. Health & Wellness is committed to supporting a diverse campus environment. All of our events are open to the whole UCSB student body and we encourage everyone to participate in our services. We offer many immersive wellness services as well as health education workshops, support groups, and more! Our mission is to have students thrive because they learn, live and achieve in an environment where they feel a sense of belonging, connectedness, and personal impact. We aim to have students' health and well-being embedded in the campus culture and valued as integral to everyone's success at UC Santa Barbara and post-graduation. We also help students to engage in habits that strengthen their well-being, exercise compassion, and advocate for the health of all individuals. Explore the many resources, services, & programs offered: