What type of safety information are you looking for?
Welcome to the Safety Services Page
---
This page of the Wellbeing website contains information surrounding Safety.
The main department that works towards improving safety at UC Santa Barbara is the UCPD, and by extension the CSO's. UCPD runs 24/7 and responds to both emergency and non-emergency situations. CSO's (community service officers) act as a bridge between the UCPD and students, providing escort and security services and performing patrols to promote safety on campus and in campus housing.
UCSB Police Department (UCPD)
---
UCPD takes great pride in providing and promoting a safe and secure environment for the students, faculty, staff and visitors here at the University of California, Santa Barbara. We strive to work collaboratively and cooperatively with all members of the University, and surrounding communities, in providing comprehensive, community-centered and professional police services where the vibrant and diverse campus community can thrive.
UCSB Police Officers have statewide jurisdiction; are duly sworn under section 830.2 of the California Penal Code; and are trained under state guidelines and mandates. The UCSB Police Department is a full service police organization that is open 24-hours a day, 7 days a week, 365 days a year. UCSB PD values transparency in policing and encourages you to contact us if you have any questions related to the services provided by our department.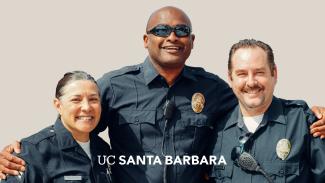 To make a report, visit the site above or fill out the following online form:
Community Service Organization (CSO)
---
CSO (Community Service Organization) was created as a student liaison between UCSB students and the Police Department. Over the last 30 years the organization has developed into a professional unit of the Police Department, maintaining the liaison function, as well as providing safety and security for students, staff and faculty. CSOs patrol the campus 365 days a year, reporting crimes in progress, assisting in emergency situations, and detecting safety hazards.
CSOs also provide personal safety escorts on campus and in Isla Vista. CSOs fulfill special security needs for residence halls and for campus special events. In addition to being a unique student organization, virtually all of the programs provided by the CSO are not provided by any other department or agency on campus or in the surrounding community.
Image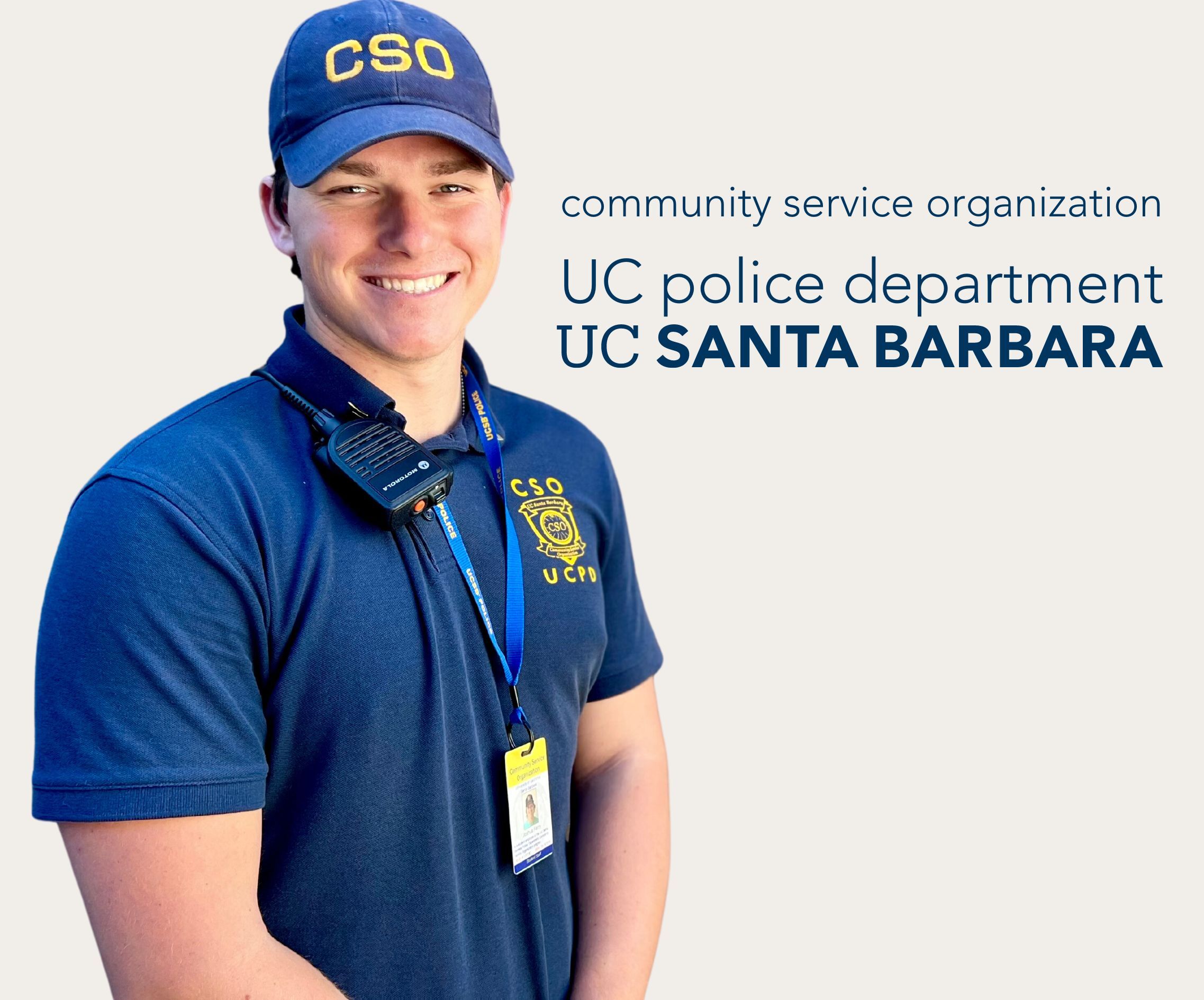 Image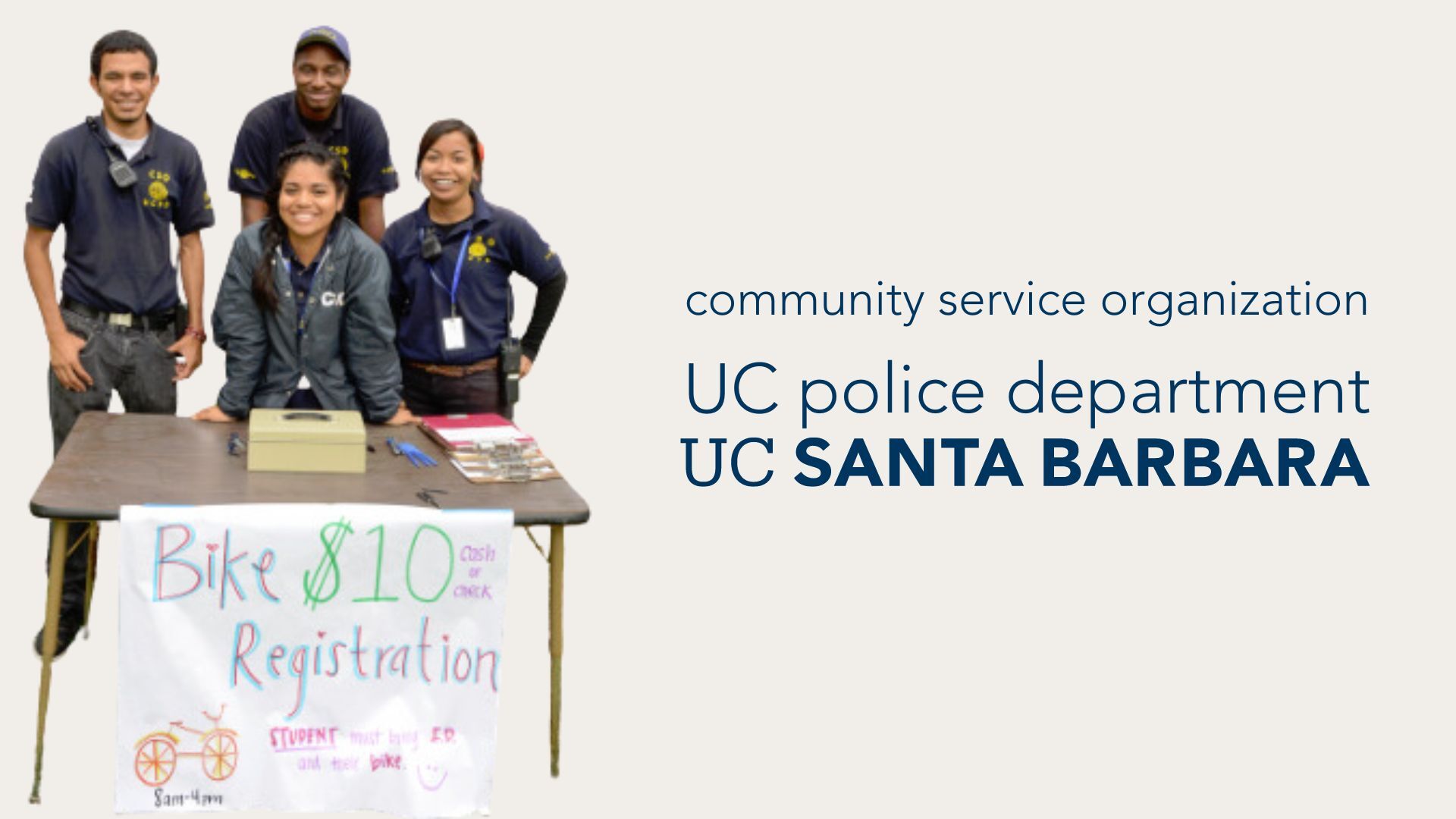 CSO Officer Objectives
These are a few objectives that CSOs maintain during their specific shifts.
To provide a safe learning and living environment for UCSB.
To encourage safety consciousness within the campus community.
To provide a positive link between the students and UCPD.
To establish an open line of communication on a peer group level.
To encourage bicycle safety and awareness.
CSO & The Police
As students, CSOs are employed by the UCPD and work with the Police Department to serve the community. Daily bicycle patrols allow CSOs to be visible to the campus community when situations arise where people need assistance- whether it be a lock-cut, calling Rescue to respond to an accident or calling for an officer to investigate suspicious circumstances. Frequently operating at a peer level, CSOs are often in a position to keep a situation from escalating into a potentially unmanageable incident. For further information, comments, concerns, or questions email: cso@police.ucsb.edu
CSO Safety Escorts
The CSO Safety Escort Program is a free service provided to all students, faculty and community members during the evening and early morning hours. The safety escort service is based on the "buddy" system and the objective is to provide a safer mode of transportation through campus and Isla Vista. This is accomplished by sending Community Service Officers to walk or bike with you to your destination.
CSOs have another level of protection in addition to the "buddy" system. CSOs are equipped with digital radios which allow them to be in constant contact with the Police Dispatch and Police Officers. CSOs are in no way considered bodyguards in a physical sense, yet they are responsible and trained to contact an officer when needed.
Safety Escorts are available for anyone 24/7, 365 days a year, and they are encouraged if you are walking or biking alone.
Once a safety escort is requested, the dispatcher will ask for your name, location, a room number if applicable, whether you are walking or riding a bike, and your specific destination.
The CSO Safety Escort Program is only one of the many services that the Community Service Organization provides, but it might possibly be the most important.
The CSO Safety Escort Service can be used by simply calling the Police Dispatch through the Safety Escort Phone Line at 805-893-2000.
Safety Escorts can also be requested through the Blue Emergency Phones located all over campus.
Note on round trips: After escorting you to your location, CSO's will return to their patrol duties, they will not wait outside or inside for you. You must call for an additional CSO safety escort upon return. 
CSO Special Events
CSOs fulfill special security needs for residence halls and for campus special events. For more information, please contact below:
Questions regarding this program or any other CSO issues can be directed to:
Pam Gebhardt, CSO Coordinator
cso@police.ucsb.edu
(805) 893-3928