What type of proactive wellness information are you looking for?
Welcome to Proactive Wellness
---
This page of the Wellbeing Website showcases proactive wellness resources that promote wellness on campus, and aim to reduce the need for medical mental-health interventions.
This page has a little for everyone, and contains resources that offer new and fun experiences, build good habits, and develop positive mindfulness practices.
Alcohol & Drug Program (ADP)
---
This program is already covered by your student fees!
The Alcohol & Drug Program (ADP) is a team of licensed Behavioral Health therapists provide free and confidential counseling to all UCSB students who are self-referred, referred by others, or concerned about someone else. Services include assessment, counseling, education, and safety information related to alcohol, marijuana, tobacco, other drugs, gambling, device/screen management, and other addictive/compulsive behaviors, as well as connections and referrals to other professionals on campus and in the community. Telehealth Counseling and supportive appointments are available either by phone, zoom or in-person. To receive general information or make an appointment, please contact us at (805) 893-5013 or email us at adp@sa.ucsb.edu. We are here to help you in whatever way we can. For specific information regarding Gauchos For Recovery services and ongoing meetings.   
Gauchos for Recovery (GFR), also housed under ADP, is a peer-driven UCSB program that aims to provide a safe, supportive, and engaging environment for students in recovery or seeking recovery from substance use disorders and addictive behaviors. We support students engaging in any recovery pathway they choose. Additionally, we support students who have been directly or indirectly affected by the substance use of friends or loved ones, and we work to create a recovery-ready campus community.
The GFR program is centered around 6 main elements:
1. A community of supportive peers
2. Recovery-oriented meetings and events
3. Opportunities for leadership and service
4. A Recovery-friendly space
5. Peer and Professional Support
6. Community Harm-Reduction Services
CalFresh (Available for Community)
The CalFresh program increases an individual's food budget by issuing eligible individuals grocery benefits that can be used at a variety of grocery and convenience stores in the area. CalFresh advocates are available on campus to assist with the application process.
Image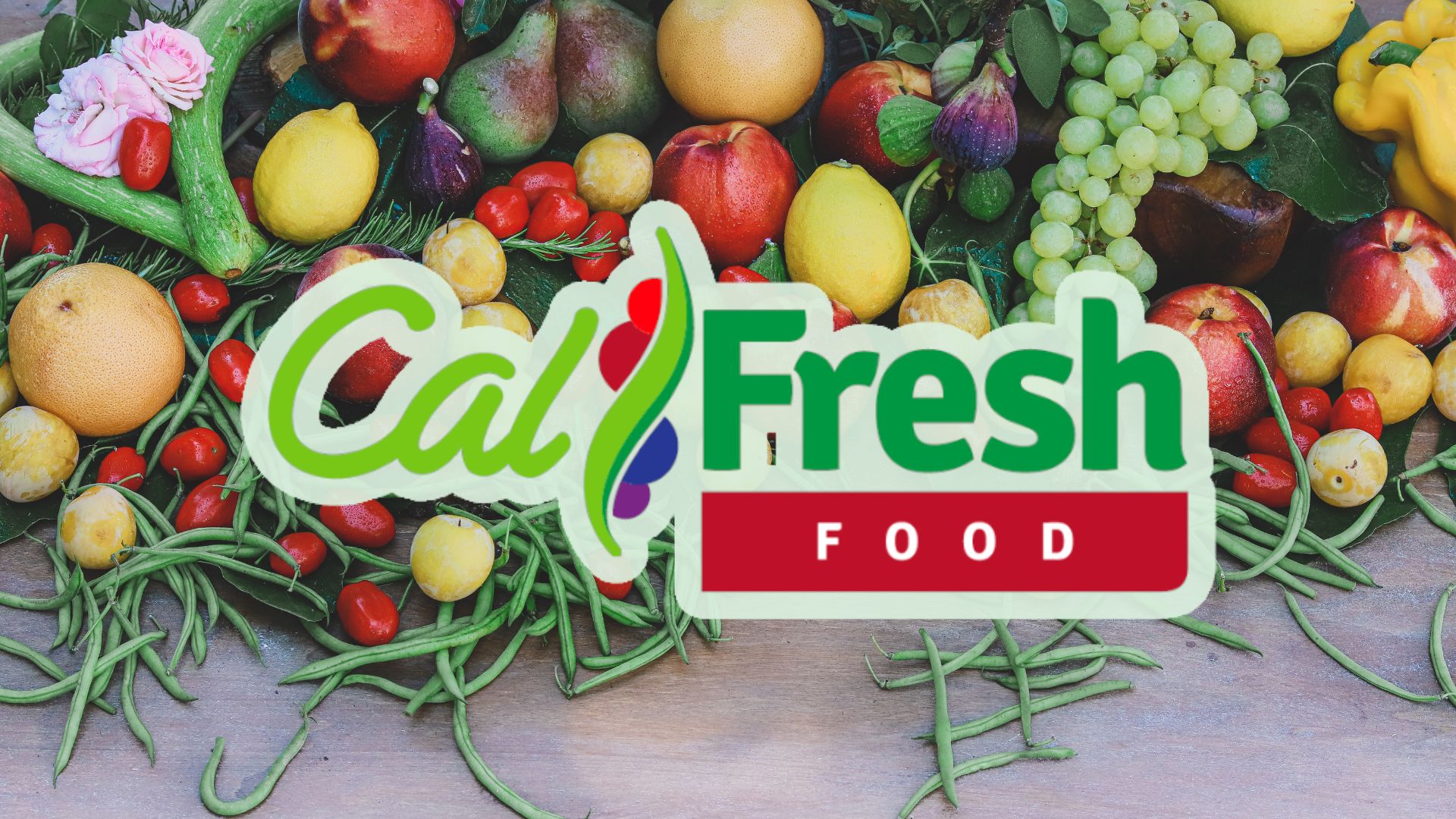 Financial Crisis Team (UCSB Students)
The UCSB Financial Crisis Response Team exists to assist students who are facing a financial crisis or urgent financial need. In order to apply for emergency funding, please email FinancialCrisis@sa.ucsb.edu. Within 1-2 days a Financial Advisor will reach out to assist you.
Image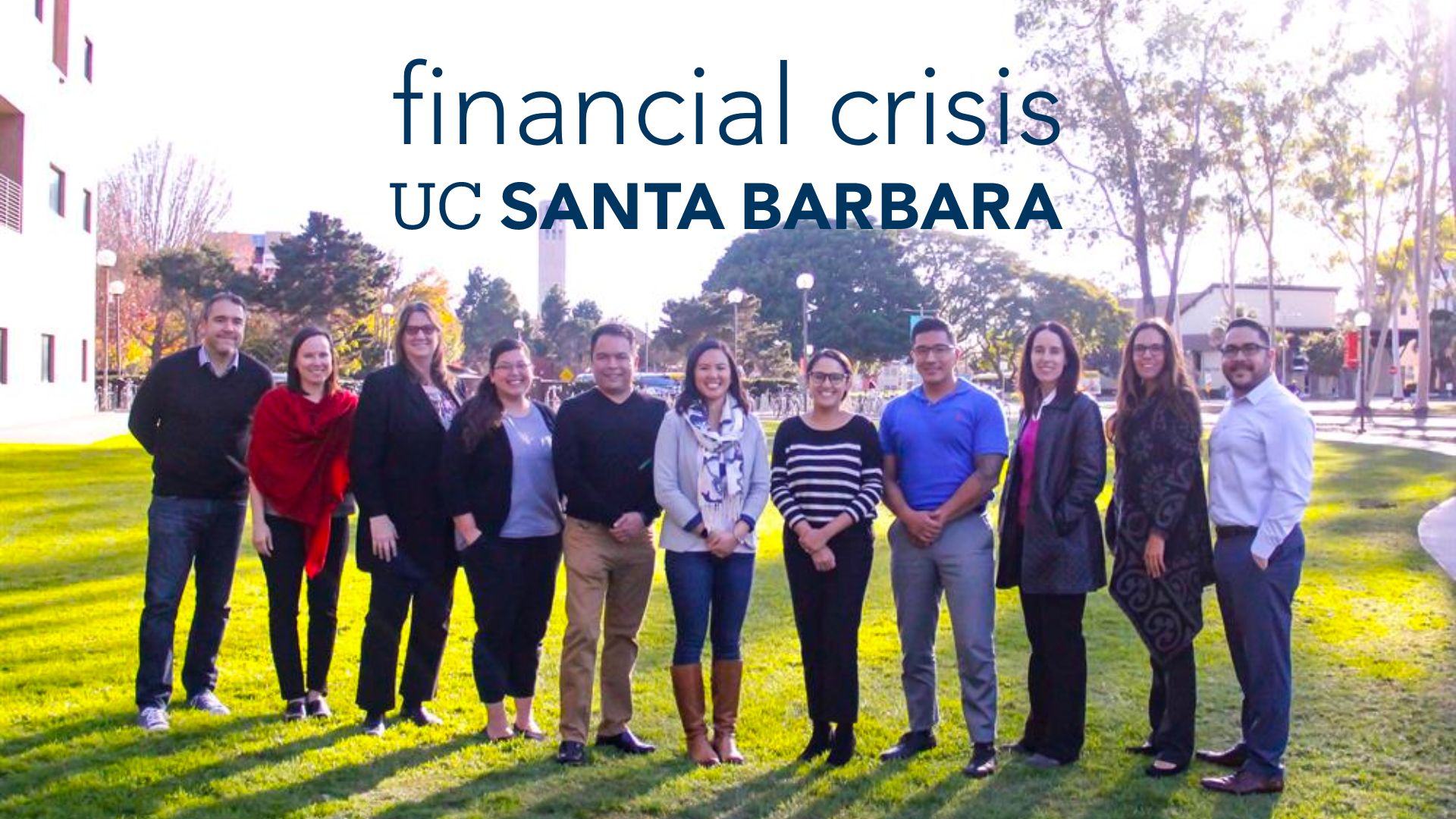 Financial Wellness Online Module (Community)
This online module allows users to learn about and develop important, healthy financial habits during their time in college. The module also connects students to the broad variety of resources throughout campus that can contribute to their financial wellness. Modules include balanced eating on a budget, knowing before you owe (debt, credit cards, credit scores, student loans, managing repayment), how to pay for UCSB (understanding BARC), and even moving off-campus (looking for housing, financial aid, undocumented student resources, contracts, summer housing roomates).
Image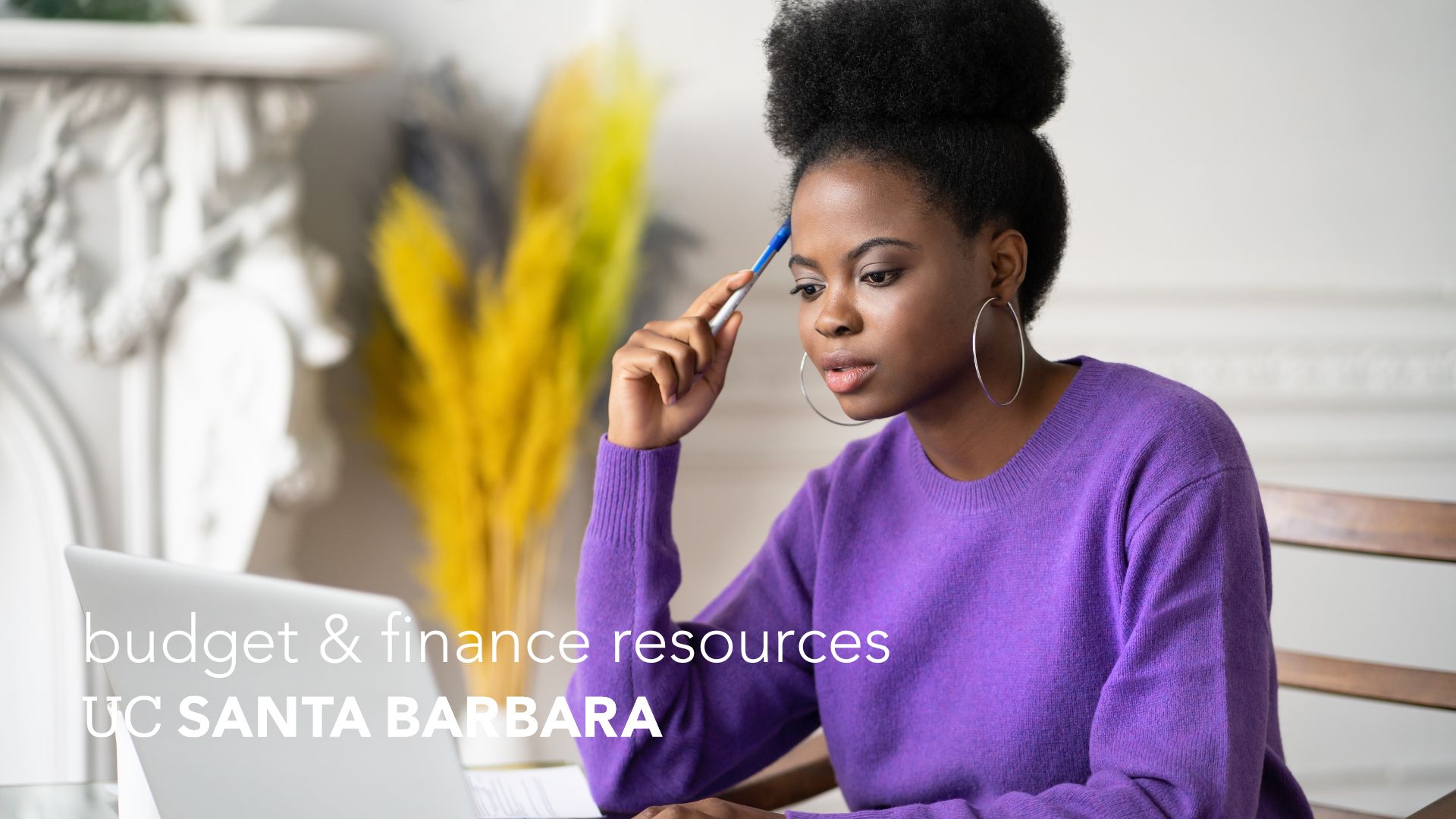 Emergency Loans and Grants
The purpose of the emergency loans and grants is to assist individuals to quickly regain stability after unexpected financial burdens. There are a variety of loans and grants available for enrolled students to apply.
Image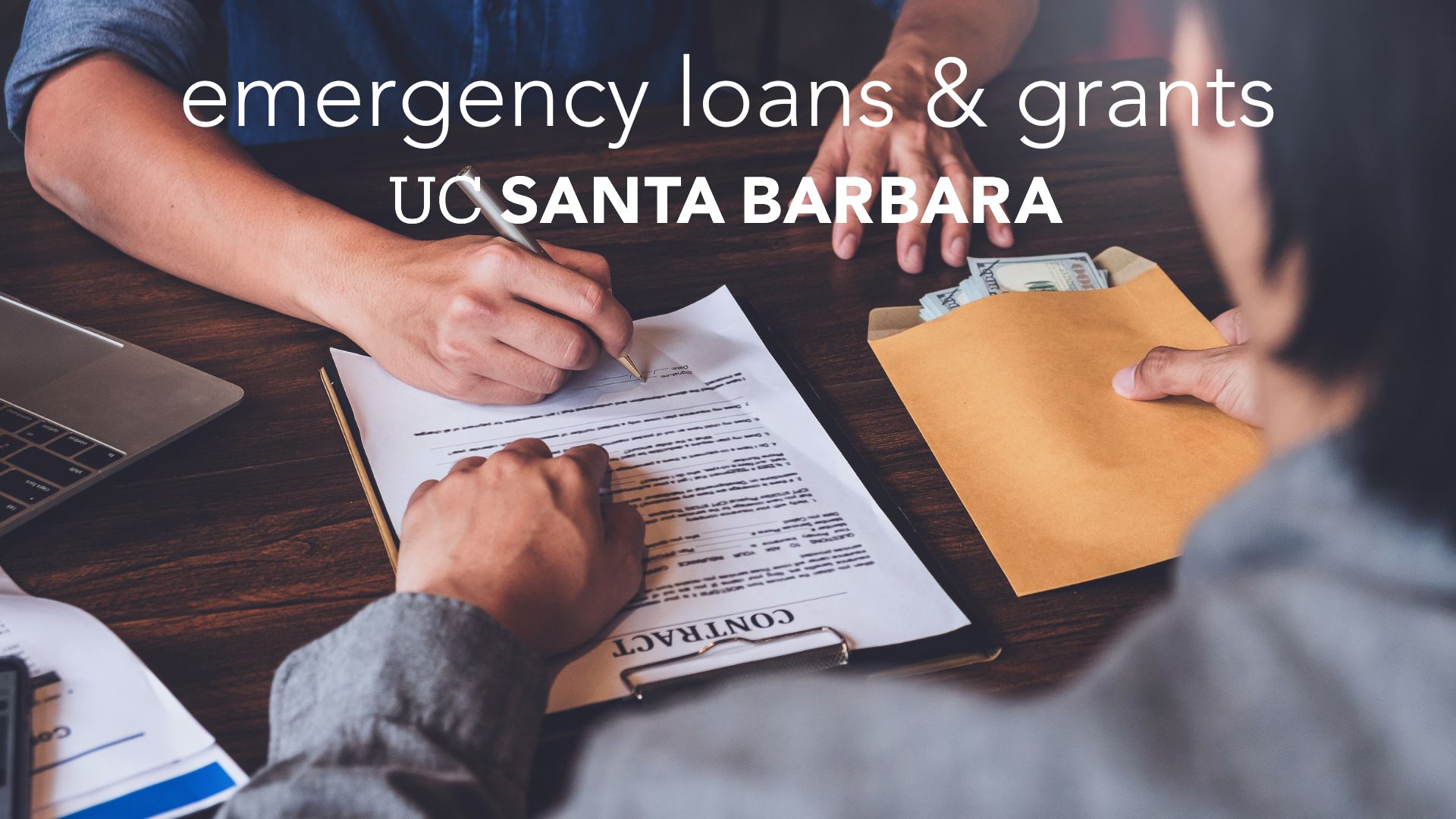 Community Financial Fund (UCSB Students)
The Community Financial Fund is a program that offers financial assistance to the student community, as well as other services including a grant program and financial literacy workshops.
Image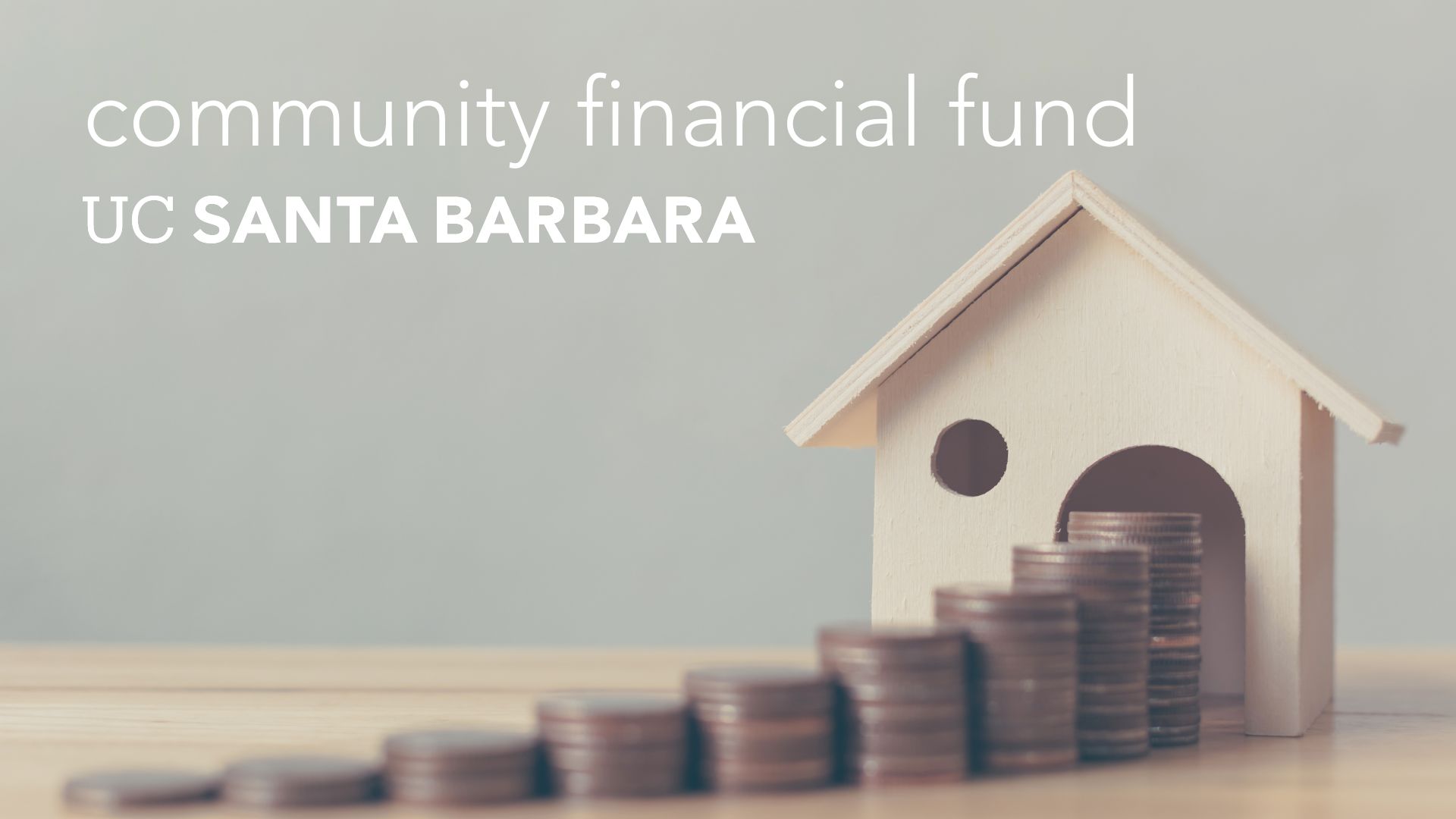 Work-Study Program (UCSB Students)
Work-Study is a need-based form of Financial Aid that is earned through on or off-campus employment and received in the form of a paycheck. To find out for information about eligibility requirements and other forms of Financial Aid, please click here.
Image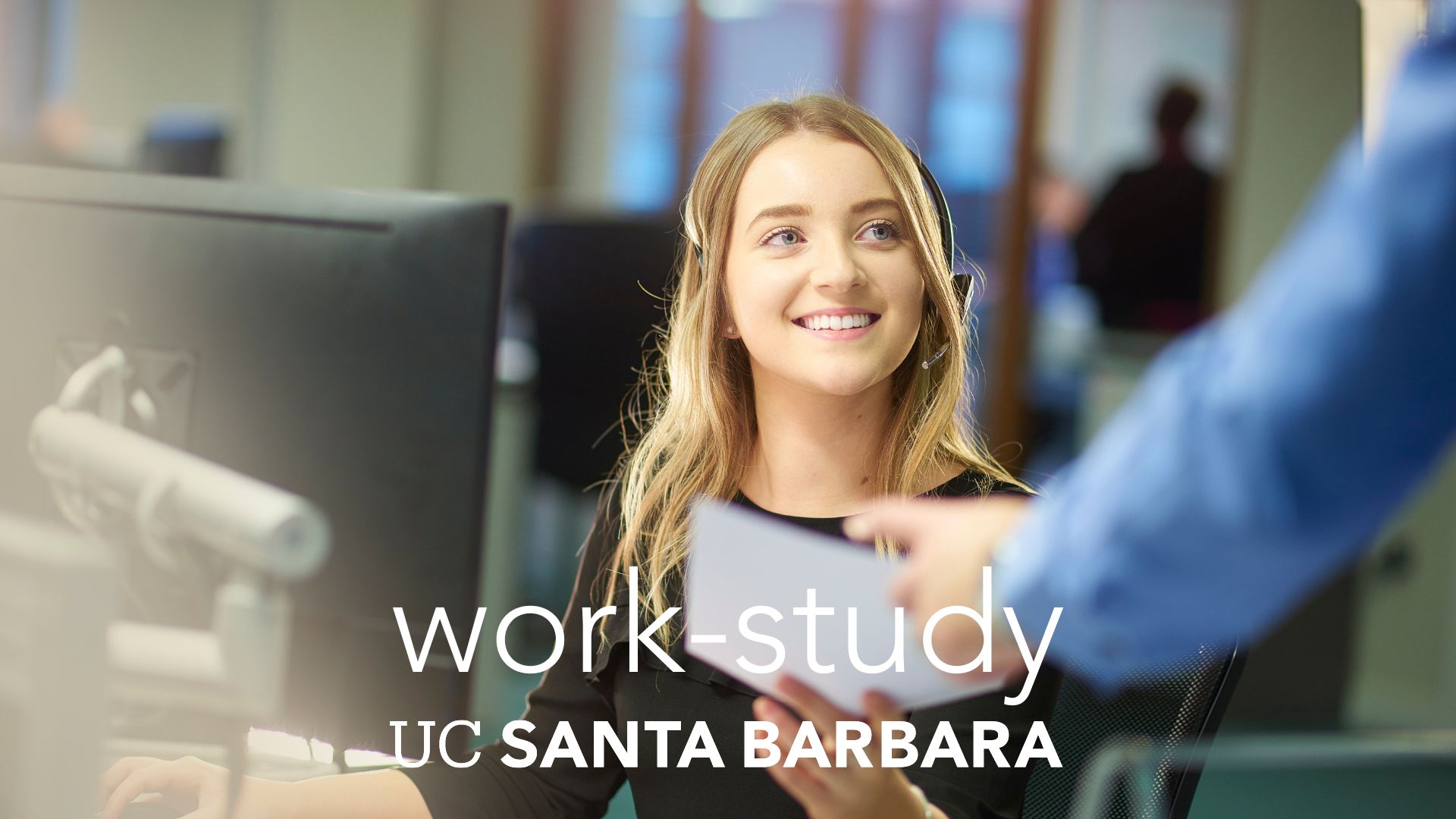 UCSB Cooks Program
In this exciting multi-week series, discover new cooking techniques and tasty, budget friendly recipes. Here, we foster community, in hopes that together we can combat food insecurity among our student body. Students learn kitchen basics and cook a range of healthy and balanced dishes using pantry staples. The UCSB Cooks series is often in high demand, but with Zoom we are able to accept many more participants. We encourage you to apply for our quarterly cooking series. We hope to cook with you soon! If you would like to get a better idea of what our Cooks program is like, scroll below for testimonials, pictures, cooking tutorials from past UCSB Cooks sessions.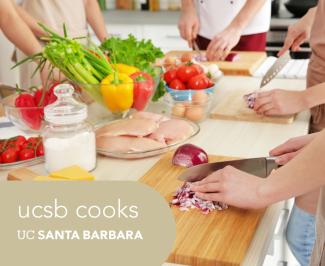 Why the Fruit Program
The "Why The Fruit?" project provides a healthy alternative to candy dishes for the desks of partnering locations around UCSB. Fruit supplies the fiber, vitamins and minerals that are key for health and the maintenance of your body. Fruit also contains naturally low levels of fat and sodium in addition to vital nutrients such as potassium, dietary fiber, vitamin C, and folate. Eating a diet enriched by fruit provides ample health benefits, such as reduced risk of heart disease, stroke, and diabetes. A healthy diet includes 1-2 cups of fruit per day, depending on your individual caloric needs.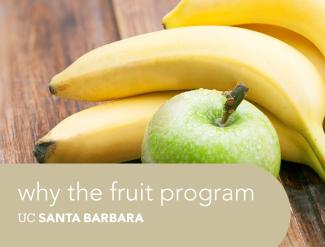 FNBS Free Recipe Index
The Department of Health & Wellness and the Food, Nutrition, and Basic Skills (FNBS) Program offers a free recipe index, where you can search for awesome nutrient-dense recipes. You can sort recipes with a filtering tool, using criteria like: vegan, budget-friendly, low-ingredient, and more! It is constantly growing so check it out often to build up your meal-making repertoire!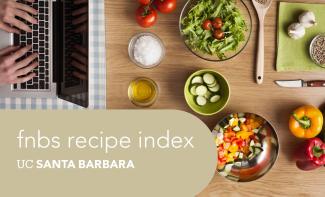 Eating Disorders & Body Image
---
Eating disorders are real, serious, complex medical and psychiatric illnesses that affect people of all genders, ages, races, ethnicities, body shapes and weights, sexual orientations, and socioeconomic statuses. Eating disorders significantly hinder a student's social, emotional and academic success. We strive to create a culture that promotes size diversity, body acceptance, and a healthier body image for all humans.
The Body Project
The Department of Health & Wellness offers a program called "The Body Project", which is an evidence driven, empirically and research based eating disorder prevention program that fosters body acceptance and reduces risk for developing Eating Disorders among high school and college aged women.   
This is a four-week, peer-led educational group with a clearly outlined, weekly plan delivered in a small group format. They provide three women's groups quarterly.  Each group is facilitated by two Health & Wellness peer educators who provide a forum for young women to confront the culture of unrealistic beauty ideals and engage in the development of healthy body image. 
The curriculum for this program was developed as a peer-to-peer delivery model by Eric Stice, PhD, a nationally recognized expert in eating disorders prevention. Three of our health educators in Health & Wellness, and two dieticians in Student Health were trained in the supervision of peer health educators to deliver this program in Summer 2019, and the program was first implemented at UC Santa Barbara in Fall 2019. It has been delivered to over one million young women around the world and has been proven to improve body satisfaction, reduce the risk for eating disorders, and improve school and social functioning.
They ask that you attend all 4 sessions and participate in some basic homework exercises. This will give YOU the best results.
Dr. Stice's team has developed a new curriculum for men, and we are exploring the possibility of  offering two quarterly men's body image groups this academic year.
H&W Eating Disorders & Body Image Webpage
Eating Disorders Support at UCSB Student Health Service
After an initial visit and assessment with a medical provider at Student Health, the student will meet with the other providers. After these visits, one of three recommendations may be made:
If the student is stable enough to continue to meet the demands of college life, support is available on campus. We have a multi-disciplinary approach that includes nutrition, medical, and counseling services.
Outpatient treatment typically includes a referral into the Santa Barbara community for long-term psychotherapy. Student Health will provide information on health care providers in the community who specialize in eating disorder treatment.
In the event that a higher level of care is needed, and the student needs to temporarily withdraw from college, the student is referred to a program that offers residential care.
Eating Disorders Support at SHS Webpage
Eating Disorders & Body Image Library Guide
For FREE additional readings and resources on Eating Disorders & Body Image, check out our UC Santa Barbara Library Well-being LibGuide. Here you can find curated books and more on this health topic that you can download and read on your computer or mobile device... FREE! Here are some of just the many Eating Disorders & Body Image books offered at our LibGuide!
Mindfulness Meditation Program
While honoring the traditional roots of meditation practices, Health and Wellness's programs are shaped by the research backed findings of mindfulness as a tool to alleviate suffering in our modern day lives.
As our minds engage in reverberating thoughts of the past or future, we can often over stimulate our fight or flight response.
By retraining the mind to build new neural pathways through the practice of being present minded, we can reduce stress and increase equanimity. Facilitated by a trained instructor, all offerings are beginner friendly with no experience or particular beliefs needed. Come join us!
Physical Activity & Recreation
---
Image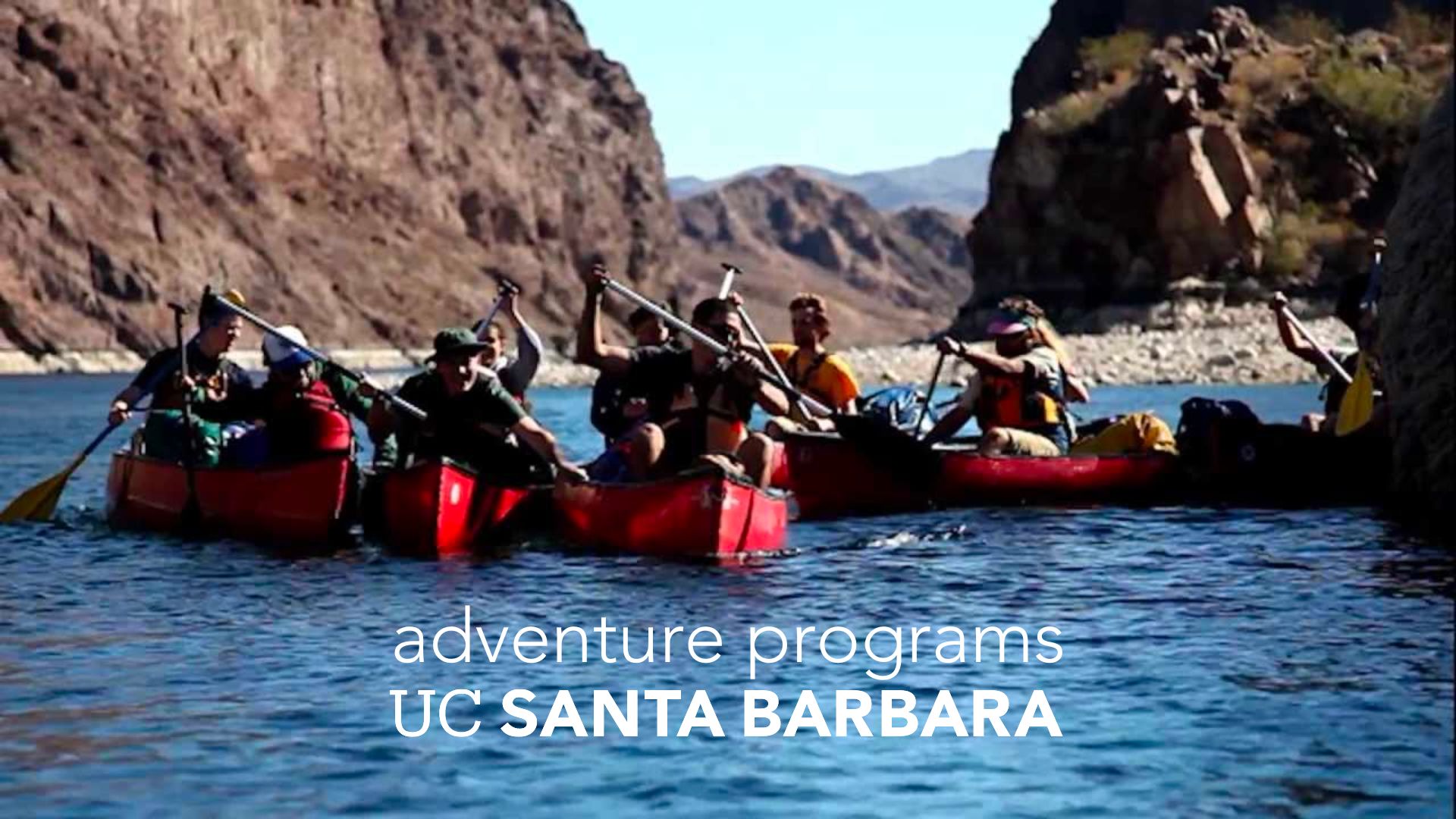 UCSB Adventure Programs are open to everyone - students, staff, faculty, alumni and community members. We offer reduced rates for students as a result of the Rec Sports and Students' initiatives. Sign ups for all offerings are in the Rec Cen Customer Service Center or online here. We are proud to offer our programs at an unbelievable value. Current UCSB Students receive an extra discount thanks to the Rec Sports Fee Initiatives. Thank you for investing in your adventures.
Classes for Fitness, Enrichment, and Sports
Recreation offers several types of classes, including Group Cycling, Group Fitness, Sailing and Boating, and Gaucho REC (Recreation & Exercise Classes).
Gaucho REC gives participants the opportunity to learn a new skill, fine tune an old skill, or simply stay in shape. There are no pressures, exams (aside from emergency certification classes), or grades to worry about—just relax and enjoy! Classes meet once or twice weekly throughout the whole day.  Choose from Arts & Crafts, Certifications, Dance, Mind & Body, General Interest, Martial Arts & Self Defense, or Sport! Classes are open to UCSB students, faculty, staff, alumni, affiliates and community members (age restrictions apply). Check out all the options here:
Image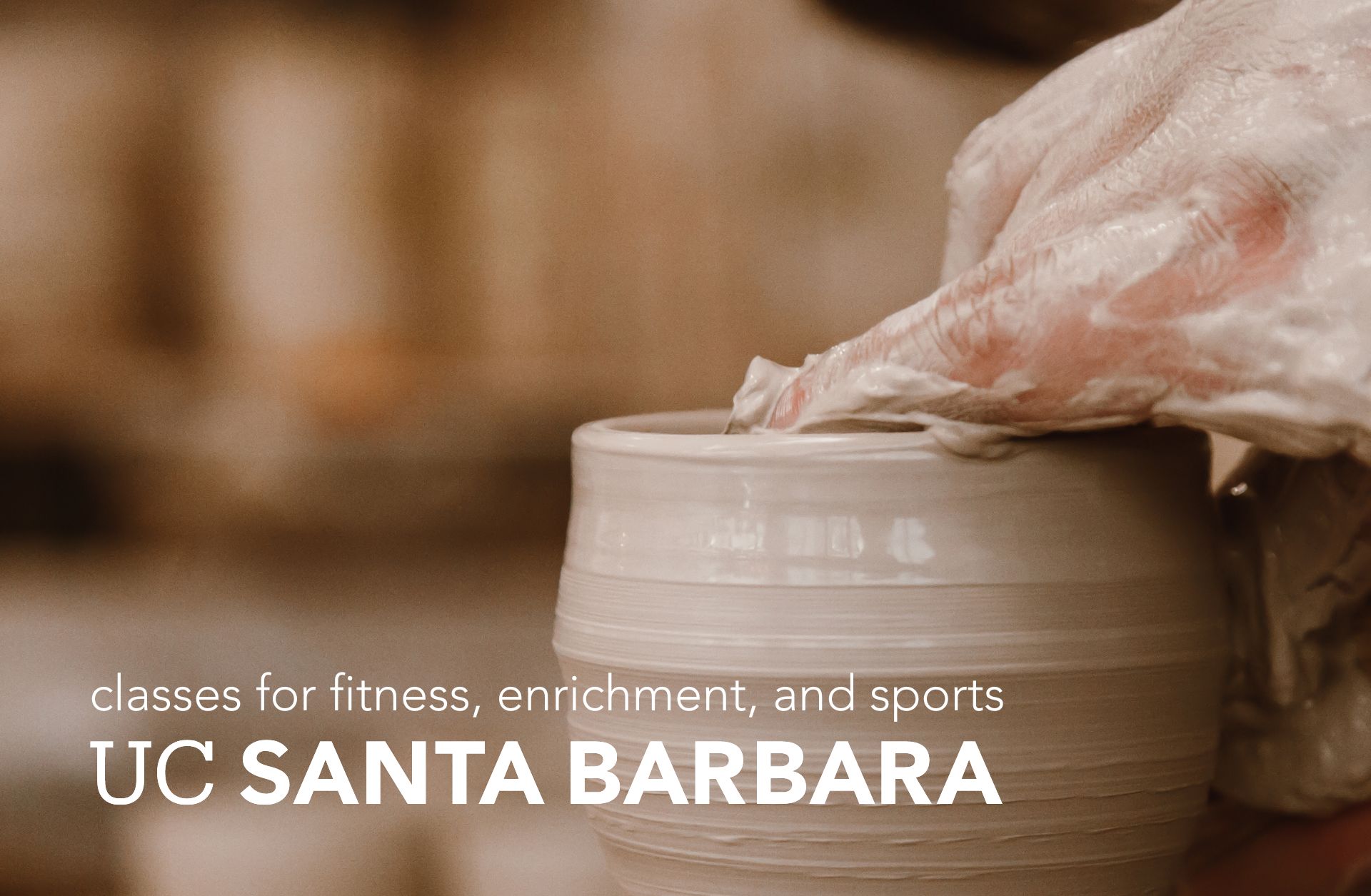 Image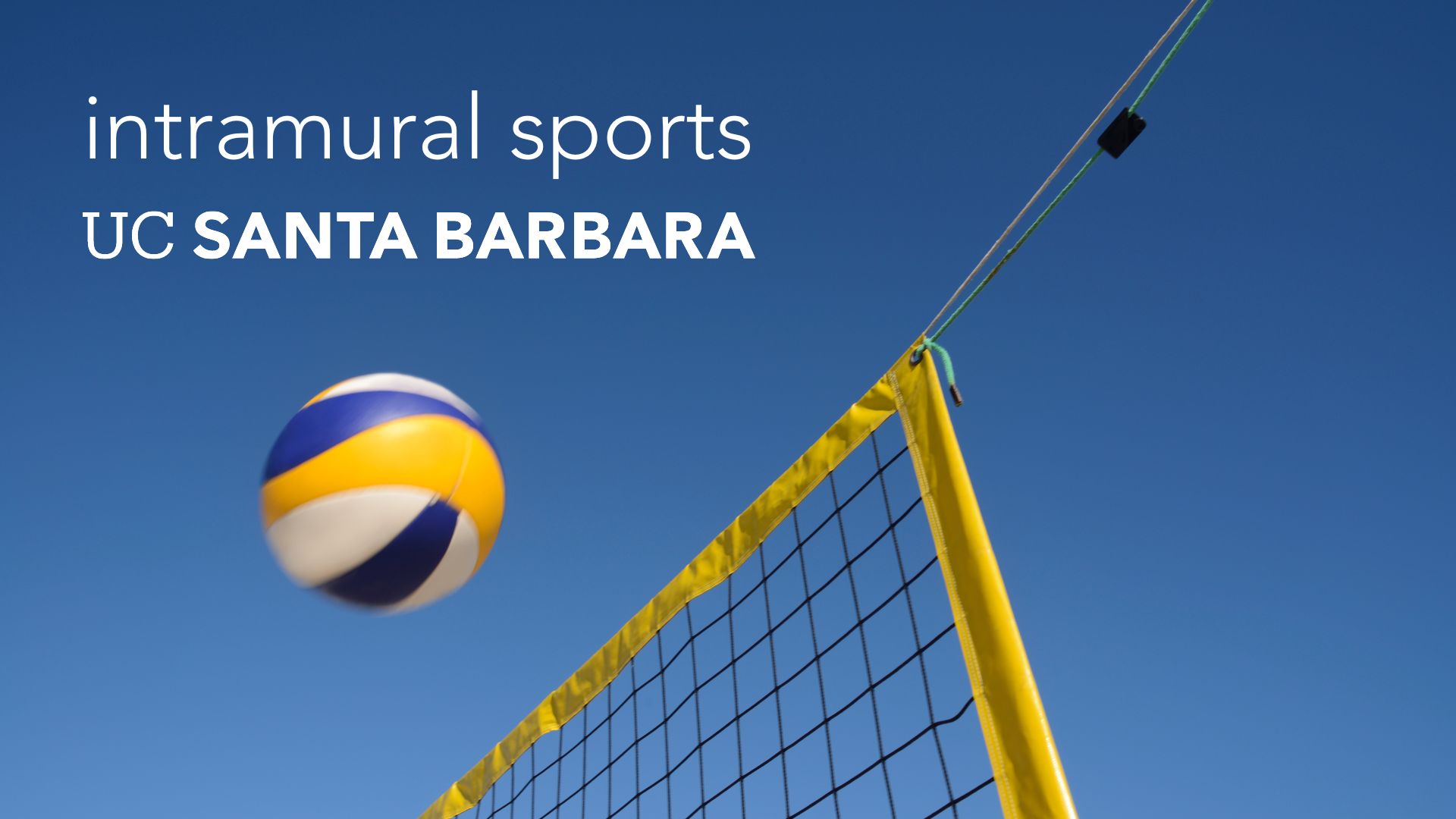 Intramurals are offered throughout the academic year and during the summer. Sign up and enjoy the leisurely side of sports with no rigorous practices, travel, or highly competitive atmosphere. There is a place for everyone and no experience is needed to play. So whether you're a star athlete looking for some daily competition, or you're a newcomer to the sport in search of a good time, sign up for an Intramural team and get in the game!
The UCSB Recreation Center opened in 1995 with 100,000 sq. ft. and has been one of the most popular spots on campus ever since. The original Rec Cen has two swimming pools, two gymnasia, two weight rooms, two squash courts and five racquetball courts. The Rec Cen Expansion (Rec Cen II) was approved by students in Spring 2000, opened in the Spring of 2005 and added 56,000 sq. ft. to the Rec Cen Complex. The expansion includes an additional weight room, multi-activity court (MAC), climbing center, spa, pottery studio, classroom and additional locker facilities.

The Rec Cen has continually honored its initial promise of prioritizing drop in recreation use. For instance, students can be participating in a weight training class in one of the weight rooms while the others remain open for use on a drop in basis.
 
Image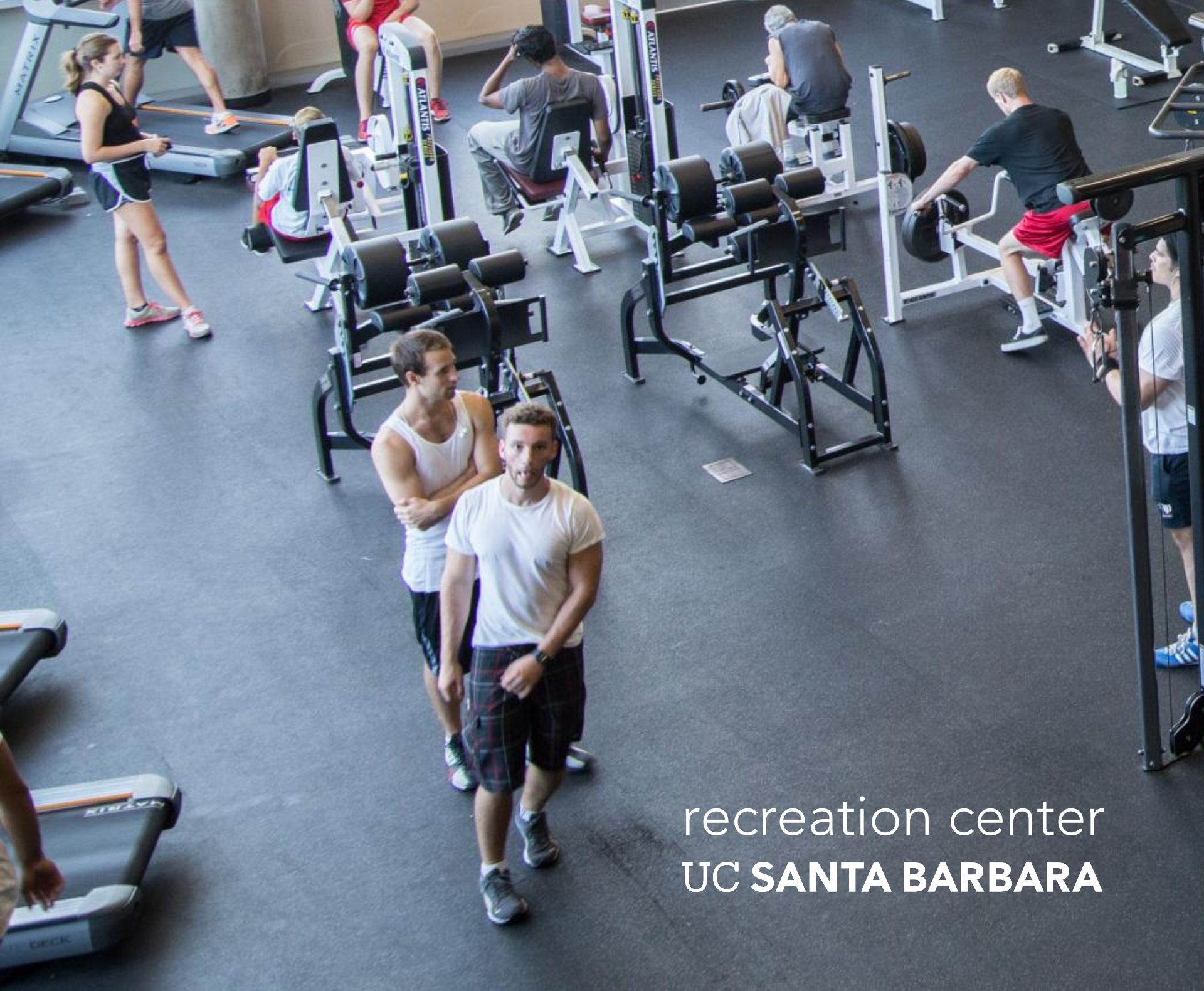 Image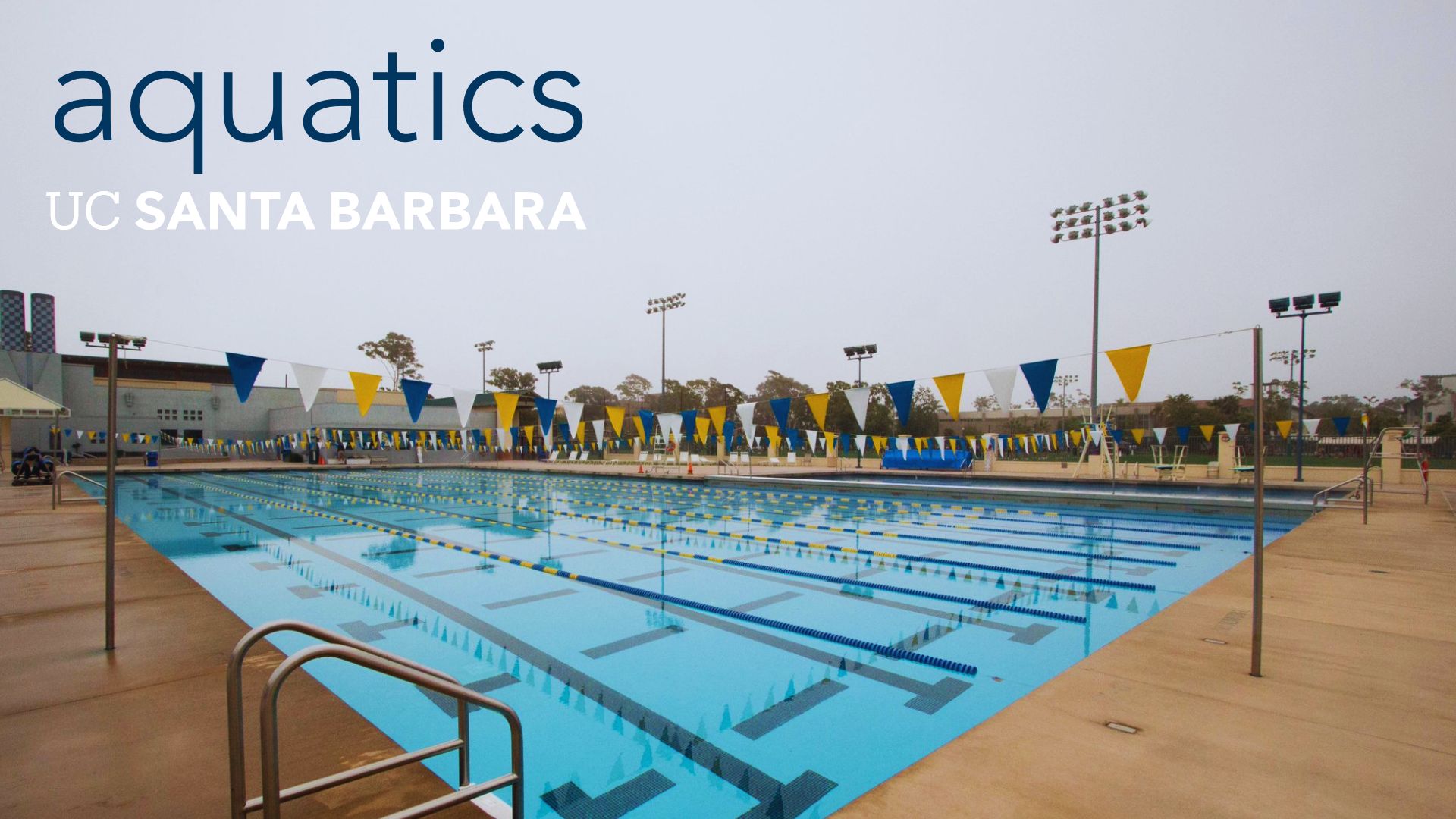 Make a splash at the UCSB Recreation Center's pools! UCSB Recreation proudly hosts four aquatic facilities: a campus pool, small pool, large pool, and spa. Enjoy a wide range of programs and services, from SCUBA and swim lessons to log rolling and youth camps, open to both youth and adults. Whether individuals are seeking to hone their skills, pick up some new ones, or simply go for a lap, join us at UCSB Aquatics! Pool use requires a Recreation Center Membership (all registered full-time students automatically have memberships). 
Personal Fitness Training
Image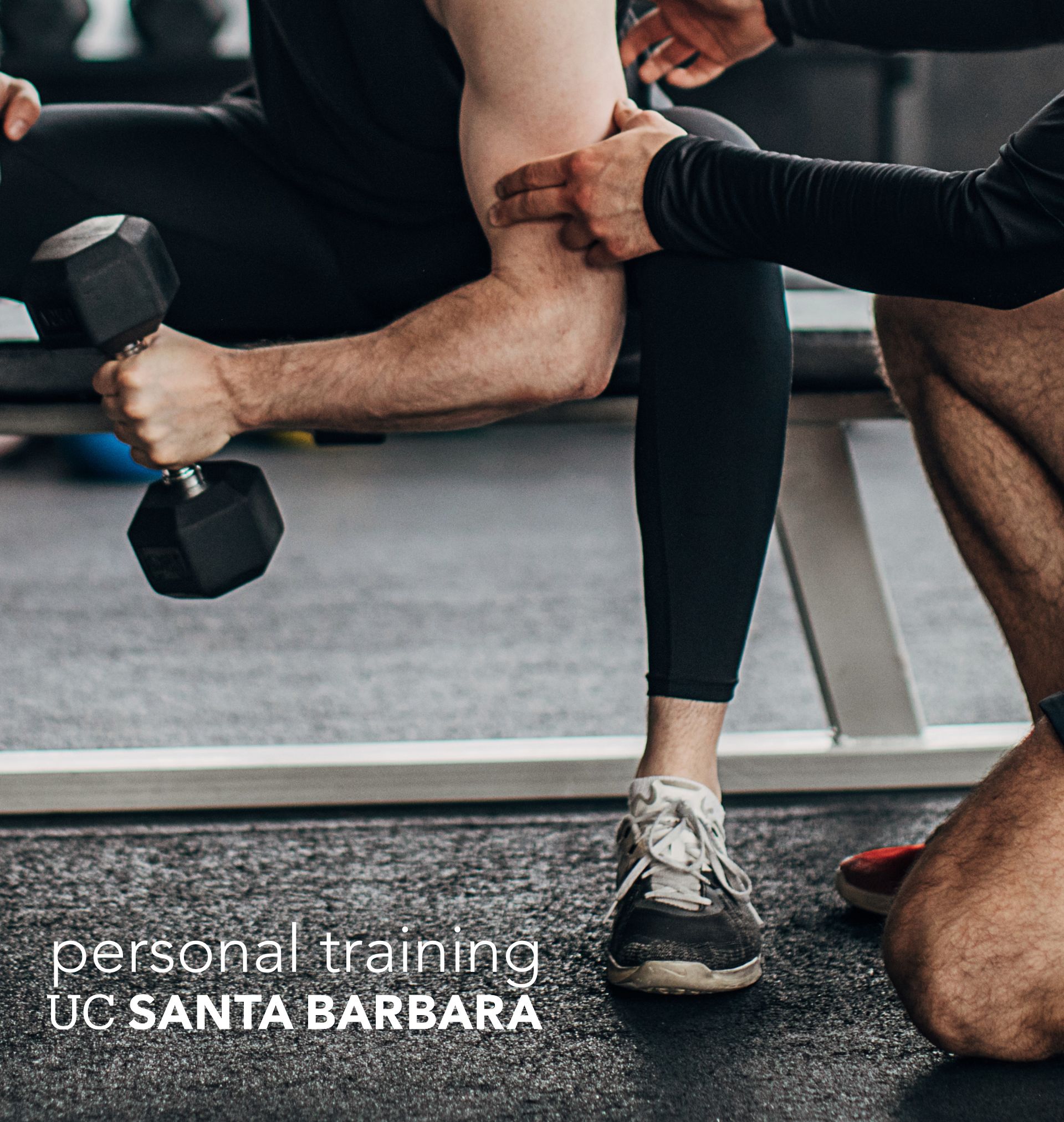 Whether you come to improve your functional strength, lean body mass, cardiorespiratory health, balance, or flexibility, our student and pro-level trainers are here to help you break through to your next level of fitness. UCSB's Nationally Certified Personal Fitness Trainers will help you set goals, track your progress, and recommend evidence-based exercise modalities to minimize plateaus and help you realize your full potential. Sessions take place at various indoor and outdoor sites in the  UCSB Recreation Center based on availability and client needs. 
We offer two levels of Personal Training. All our trainers are Nationally Certified. 
Certified Personal Trainers have up to five years experience training clients. Our hardworking and multiply skilled Certified Trainers are often also students and graduate students at the University level.
Pro-Level Certified Personal Trainers have greater than five years experience training clients. Many are pursuing or have completed graduate level work in Biomechanics and Kinesiology and have garnered years of experience leading group classes in the UCSB Department of Recreation. 
UCSB Happiness Challenge & Positive Psychology Support Group
The Department of Health & Wellness and ED 191W offers a free UCSB Happiness Challenge, which is a series of mini-challenges designed to enhance student well-being at UCSB. Each week provides a "wellness topic" with research-based information, a challenge, and other supplemental resources. References will be listed at the end of each week for more information.
In addition, the Department of Health & Wellness offers a support group called the "UCSB Happiness Challenge Team" that practices two positive psychology tips weekly. We strive to improve our relationships, increase our meaning, and build our community together.
Take the UCSB Happiness Challenge
Positive Psychology Resources at the Department of Health & Wellness
Positive psychology interventions help us to thrive in life.  We focus on five areas: developing strong positive relationships, developing skills throughout life, living a meaningful life by using your skills to contribute to something bigger than yourself, accomplishing goals, and increasing positive emotions. Our Positive Psychology Program includes workshops, events, and online learning. Check out more information at the link below:
Sleep Hygiene
---
We all know sleep is important. As a college student, juggling multiple commitments such as academics, work and a social life, it can be hard to prioritize sleep. However, consistent and quality sleep has a large impact on the success of your academics and overall quality of life. For example, research shows that sufficient sleep improves memory, mood, and performance. The Department of Health & Wellness provides students the opportunity to assess their sleep needs and help them establish consistent sleep routines. We hope that as a result of sleep education, students will prioritize sleep to increase their energy, well-being, and learning potential. Check out the sleep-related resources that they offer below!
Sleep Health Education
The Department of Health & Wellness offers an online platform that was created specifically for college students and offers tips and tricks for improving sleep health. Click below to read content modules or to start the 7 day sleep challenge!  This online seven-day challenge sheds light on the science of sleep. The challenge will give you tips on how to track a sleep schedule, inform you on how what you consume affects your sleep and help you learn more about your own personal sleep habits.
Nap Pods in the Library
We're grateful for our partnership with the Library. Check out the brand new Health & Wellness nap pods in the UCSB Library (Ocean Side, near the Transfer Student Center) where students can take a 20-minute nap as a break in their studies. Naps taken prior to a long working session can improve performance, alertness, and vigilance for up to 2-3 hours upon waking.  The optimal length of a nap is between 20-40 minutes. The Nap Pods have a pre-programmed 20 minute nap cycle, or you can set your own time for a longer or shorter nap. You can enjoy a relaxing zero-gravity experience complete with soft music, gentle vibrations, and a storage space to keep your belongings safe while you snooze. zzz 
Nap Station
To help offset daytime sleepiness, stop by the Health & Wellness nap station on the SRB Front Lawn. Take a nap in one of our inflatable pods or grab for some free sleep swag including eye masks and ear plugs. Note: Nap Station times change every quarter. Please check the H&W calendar for the current Nap Station information. For more info, visit the Department of Health & Wellness Sleep Webpage with a current calendar of Sleep related events and offerings!
Egg Chairs
There are also some comfy chairs to relax in scattered across campus. Check out the list below to see if you are near one or look at the map on our website.
Library (5) →  Health & Wellness partnered with the library to have 3 egg chairs on the Ocean Side by the ATC room and near the Transfer Student Center. There are also 2 egg chairs on the Mountain Side across from the Services Desk.
CAPS (2)
GSA lounge (4)
Santa Rosa Main Lounge (2)
San Cat Fiesta Room (2)
Santa Cruz Lobby (2)
Body Scan for Bedtime
It can be hard to control the noises surrounding us before we go to bed, especially in college. To help ease you into sleep, try this short 10-minute bedtime meditation. This is designed to help you let go of the stress of the day and become more present to help you fall asleep an energized next day. Mindfulness practice can be a great part of your pre-bedtime habits to help you optimize both mindfulness and deeper, more fulfilling sleep on a regular basis. Give it a try today!
Library Guide for Wellbeing | Sleep Health
For FREE additional readings and resources on sleep health, check out our UC Santa Barbara Library Well-being LibGuide. Here you can find curated books and more on this health topic that you can download and read on your computer or mobile device... FREE!
Here are some of just the many sleep health books offered at our LibGuide!
Stress Reduction
---
College can be a stressful time for many reasons, whether it be living away from home, academics, work or relationships. The Department of Health and Wellness aims to provide short-term and long-term stress reduction education and opportunities for students not only to improve academic performance but aid in the process of creating a long, happy and healthy life. The Mental Health Peers also offer many stress reduction resources as well.
Stress is the body's reaction to any change that requires an adjustment or response. The body reacts to these changes with physical, mental, and emotional responses. Stress is a normal part of life. Stress can be positive, keeping us alert, motivated, and ready to avoid danger. Stress becomes negative when a person faces continuous challenges without relief or relaxation between stressors. As a result, the person becomes overworked, and stress-related tension builds. Check out the many stress reduction resources on campus below!
Rejuvenation Station
Come to Rejuvenation station to de-stress and rejuvenate. Get a free chair massage with Licensed Massage Therapists.
Come by for a free bluebook, cup of tea, massage and mindful activities.
Rejuvenation Station Registration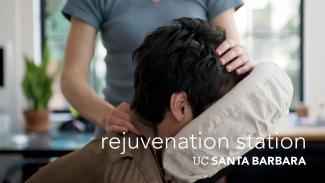 How to Make Stress your Friend
How you think and act can transform your experience of stress. Oxytocin's main roles in your body is to protect your cardiovascular system from the effects of stress.  So when you reach out to others under stress, either to seek support or to help someone else, you release more of this hormone, your stress response becomes healthier, and you actually recover faster from stress.
Stress Management Group
Are you feeling stressed and want to improve your ability to manage stress? Then this is the group for you!
This will be a 6-week, psychoeducational, skills-based group that will teach students how to use relaxation techniques and mindfulness to help them manage stress. Hosted by CAPS, see the flyer for details on time and location!
Stress Management Techniques
Learn and practice relaxation techniques; try meditation, yoga, or tai-chi for stress management.
Exercise regularly. Your body can fight stress better when it is fit.
Eat healthy, well-balanced meals.
Learn to manage your time more effectively.
Get enough rest and sleep. Your body needs time to recover from stressful events.
Don't rely on alcohol, drugs, or compulsive behaviors to reduce stress.
Seek out social support. Spend enough time with those you enjoy
Relaxation Techniques
Breath focus: In this simple, powerful technique, you take long, slow, deep breaths (also known as abdominal or belly breathing). As you breathe, you gently disengage your mind from distracting thoughts and sensations.
Body Scan: This technique blends breath focus with progressive muscle relaxation. After a few minutes of deep breathing, you focus on one part of the body or group of muscles at a time and mentally releasing any physical tension you feel there.
Guided imagery: For this technique, you conjure up soothing scenes, places, or experiences in your mind to help you relax and focus.
Mindfulness meditation: This practice involves sitting comfortably, focusing on your breathing, and bringing your mind's attention to the present moment without drifting into concerns about the past or the future.
Yoga, tai chi, and qigong: These three ancient arts combine rhythmic breathing with a series of postures or flowing movements. The physical aspects of these practices offer a mental focus that can help distract you from racing thoughts.
Library Guide for Stress Reduction | Wellbeing
For FREE additional readings and resources on Stress Reduction, check out our UC Santa Barbara Library Well-being LibGuide. Here you can find curated books and more on this health topic that you can download and read on your computer or mobile device... FREE!
Here are some of just the many books offered at our LibGuide!
Mental Health Peer Program (MHPP)
The Mental Health Peer Program's mission is to increase knowledge about mental health topics and resources and decrease the stigma attached to mental health. Our 21 peers are passionate about helping all students thrive, offering a variety of resources for education, prevention, and intervention. The Mental Health Peers (MHPs) are trained in basic counseling skills and provide students with support, basic stress management techniques, and peer advising on stress-related or mental health-related issues and concerns. 
The Alpha Wave "Egg" Chair at Mental Health Peers Office at CAPS
The Egg Chair, as it is known on the UCSB campus, encourages a state of relaxation, calm, and rest, and helps students feel refreshed and energized. The Egg Chair is in a quiet, private room where students can watch relaxing films on a full-screen TV and listen to calm music with the chair's surround sound speakers! This is a great space for students to practice relaxation and meditation, as well as stress management techniques. 
To use the Egg Chair, please visit the CAPS main office (Building 599) and check in at the front desk.
Image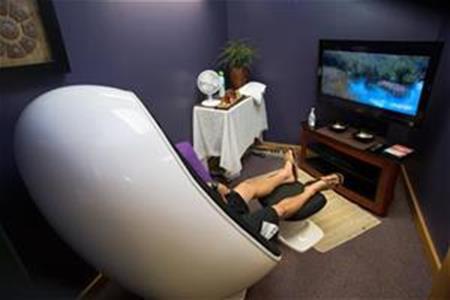 The Massage Chairs at Mental Health Peers Office at CAPS
The MHPs have four massage chairs available for student use. Our massage chairs combine air, heat, vibrations, and rollers to create a full-body, relaxing massage. They release tension and increase circulation which can ease general body pain, headaches, cramps, and reduce your stress. By relaxing and easing your muscles, you can feel refreshed and ready to take on the world!
To use the massage chairs, please visit the CAPS main office (Building 599) and check in at the front desk. 
Image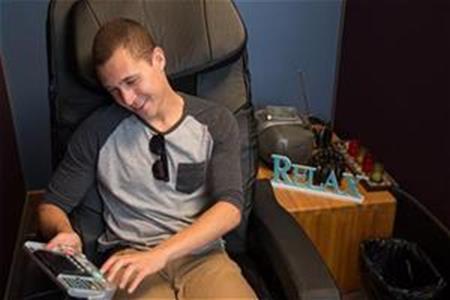 Drop-In Support with Mental Health Peers
The MHPs are available during business hours for drop-in support for those who are curious about CAPS and MHP resources, those who are struggling, other those who want to help a struggling friend/family member but don't know how to start the conversation. We can assist students in learning techniques to cope with stress, talk to loved ones, and get connected to appropriate resources. 
School Anxiety Program (SAP) with Mental Health Peers
The university is a high pressure setting, which can cause students to feel anxious. Students who experience anxiety related to school may feel like their test taking abilities, motivation, concentration, sleep, and stress levels are impacted. The School Anxiety Program (SAP) includes up to three 1-hour long sessions - the first session is a group workshop. This workshop can be followed by two optional one-on-one sessions with a MHP which focus on time management, coping, and relaxation. To participate in SAP, please visit our calendar and attend any of the SAP workshops that work with your schedule. You will have the option to request the individual sessions at the end of the workshop.
SAP has been found to be helpful because:
It can be useful for students experiencing mild to moderate anxiety before and/or during an exam - including problems with sleep, motivation, concentration, memory, and stress.
It can help identify causes of anxiety, teach skills that reduce physiological symptoms, and challenge the student's thought processes. 
It can teach skills that will help students tackle challenges throughout their lives.
Workshops/Seminars with Mental Health Peers
The Mental Health Peers offer workshops and seminars regularly throughout the year on topics such as stress reduction, relaxation, healthy relationships, and how to start the conversation about mental health. Visit our calendar to see upcoming workshops.
Additionally, workshops are available by request (both on and off campus) for organizations and groups of 10 or more people. We can cater pre-existing workshops towards the group's needs or create a new workshop to address the concerns of particular communities. Check out our Meet The Peers page to see the diverse interests represented by our peers. 
Please submit a workshop request at least 10 business days prior to the requested date.
Questions about Mental Health Peers?
Have a question that wasn't answered? Stop by the MH Peer office or call (805) 893-4411 and ask to speak to a Mental Health Peer! You can also email us! 
Check out the All New Campus Map for useful wellness resources that can be found on the UCSB Campus and other nearby areas including free condom and menstrual product dispensers, egg chairs, hydration stations, etc.
When you click onto the marker, there will be a short description for where you will be able to find the selected resource in the building. Please ask the front desk of the respective building for assistance if you still have trouble locating the resource.